Home
Brochure
Info
Photos
Schools
Order
The ID Inside wristband is available wholesale with a minimum order quantity of only 24 pieces. Wholesale orders can be placed on-line using your credit card, but only in multiples of 48 pieces (24 of each color). To order different quantities or to pay by PO or check, just request wholesale order information by fax by faxing your request to ID Inside wholesale pricing at 602-971-4474
The wristbands are UPC marked for convenient retail sale. They are available in boxes of 24, 48, 144 or 288 pieces. They are also available on pallets of up to 42 of the 288 piece boxes.
Our product brochure is packed with useful information for retailers, so be sure to check out our online copy.
A countertop display which holds up to 48 wristbands is also available.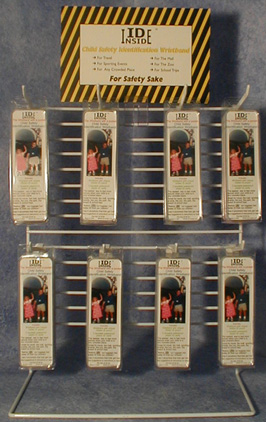 Countertop display rack shown with 24 wristbands
Copyright 2000 AquaBlast, Inc. All rights reserved.